Magazine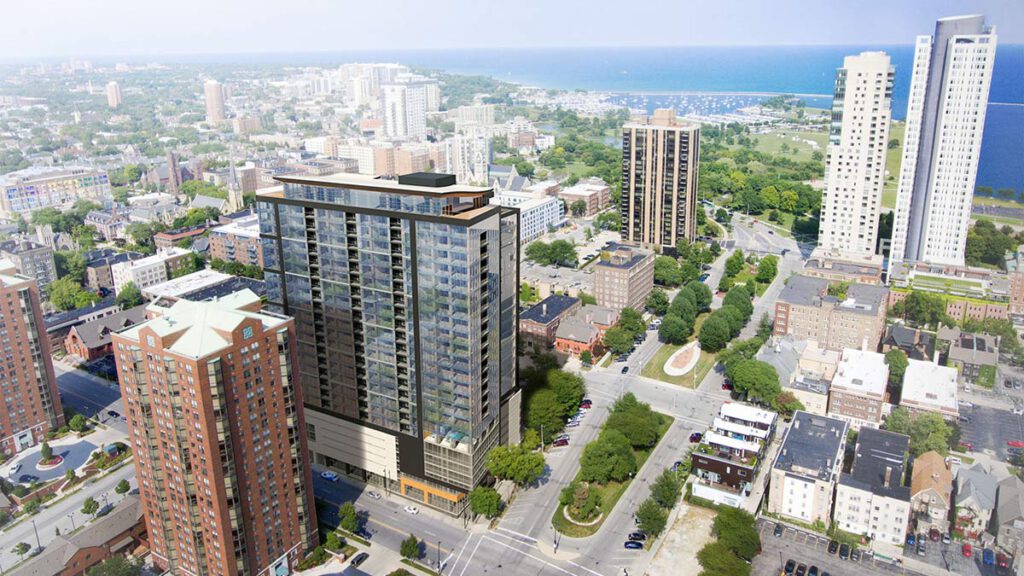 The exported timber high-rise
When it comes to timber construction engineering, the United States has been lagging behind other countries. Ascent Tower in Milwaukee aims to change this. Topping out as the world's tallest timber tower at a height of 284 feet, the building uses expertise and structural elements from Austria.
Rather than in Chicago, the first timber high-rise in the US is currently being built in the less hectic city of Milwaukee – the capital of beer. Nevertheless, the city is no stranger to modern architecture. The design by star architect Santiago Calatrava for the Milwaukee Art Museum has already set the stage on the shores of Lake Michigan. Three times a day, this futuristic building greets its visitors by folding the wings of its movable brise soleil, whose steel rods have a wingspan the size of a Jumbo Jet. It is a spectacle that visitors to Ascent Tower will soon be able to admire from above.
The world's tallest timber high-rise
Construction work for the 25-storey tower by Korb + Associates Architects is well underway. Developed according to a timber hybrid design, the plyscraper is located in the city's arts and culture quarter East Town, close to Calatrava's landmark. Site photos show the two concrete stairwell and elevator shafts with the timber storeys around them, reaching into the sky.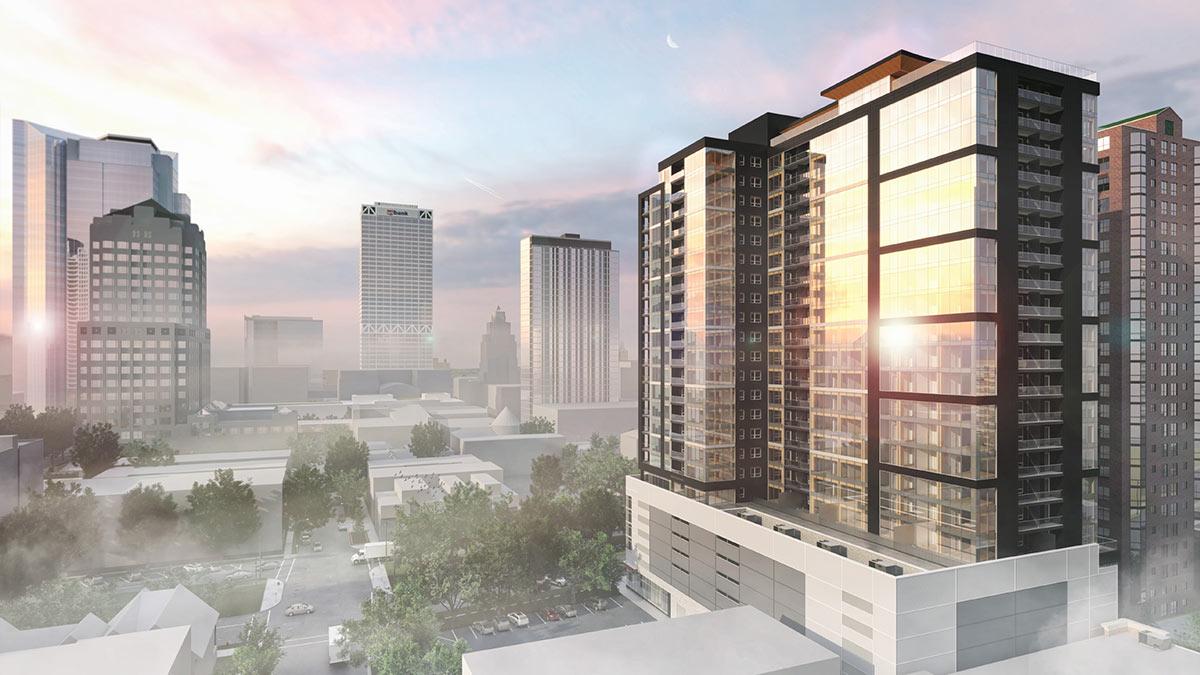 Although by just a small margin and presumably only for a short time, the tower has edged out current record holder Mjøstårnet in Norway to become the world's tallest high-rise. While plyscrapers are literally shooting out of the ground right now in Europe, the US project has a very special status. "This will be truly something different," says Tim Gokhman from New Land Enterprises. He emphasizes that the project is one of a kind in many ways: its approval process, fire protection measures, design, and timber construction engineering. And there is a lot of innovation involved.
Wood and expertise from Austria
The developer's website lauds mass timber as a new, practicable method of building with timber construction engineering: "Mass timber construction uses sustainably forested renewable timber that captures CO2, creating a carbon sink." However, there is no mention of fact that the wood and finished structural parts were all sent over from Austria. After all, even though the US has sufficient forestry, there is a lack of expertise and the associated technology.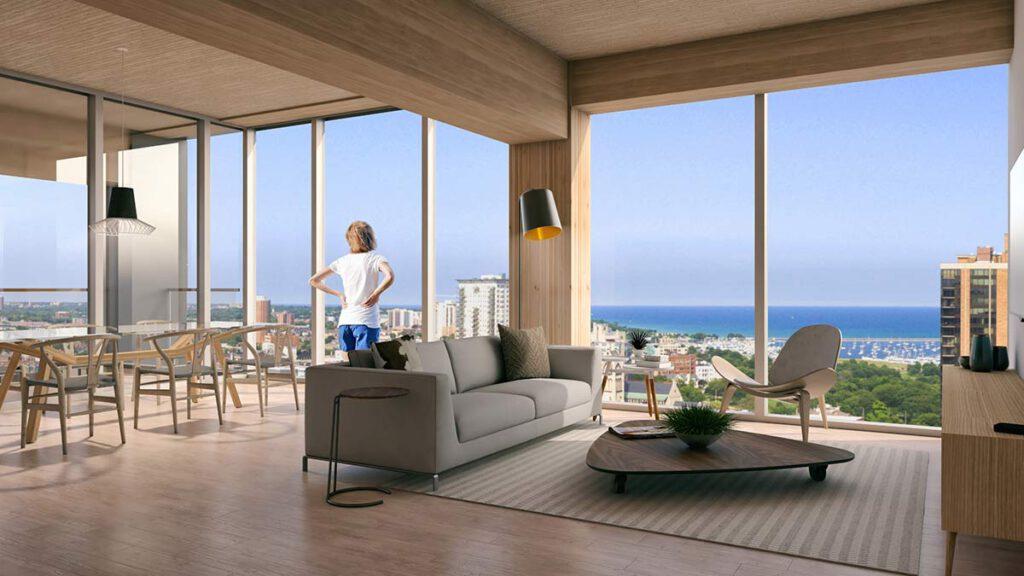 "As far as timber construction engineering is concerned, the expertise and enterprises in the United States disappeared between 1970 and 1990. And so they are now looking over to us," says Erich Wiesner. He is managing director of Wiehag, currently one of the world's market leaders in timber construction engineering. Headquartered in the Upper Austrian town of Altheim, Wiehag supplies engineering services and bespoke timber construction elements for architects and developers. Whether the construction site is in Singapore, London or Milwaukee, the process still remains the same. The individual parts are shipped off and assembled on-site by specialists, just like pieces of Lego.
This will be truly something different.

Tim Gokhman, New Land Enterprises
The columns and beams for Ascent Tower were produced at Wiehag; the prefabricated CLT elements come from CLT specialist KLH in Carinthia, Austria. Similar production plants are being built in the United States right now, such as the new site in Arkansas for Canada's market leader Structurlam. Indeed, we can expect timber construction engineering to become more regional in the future.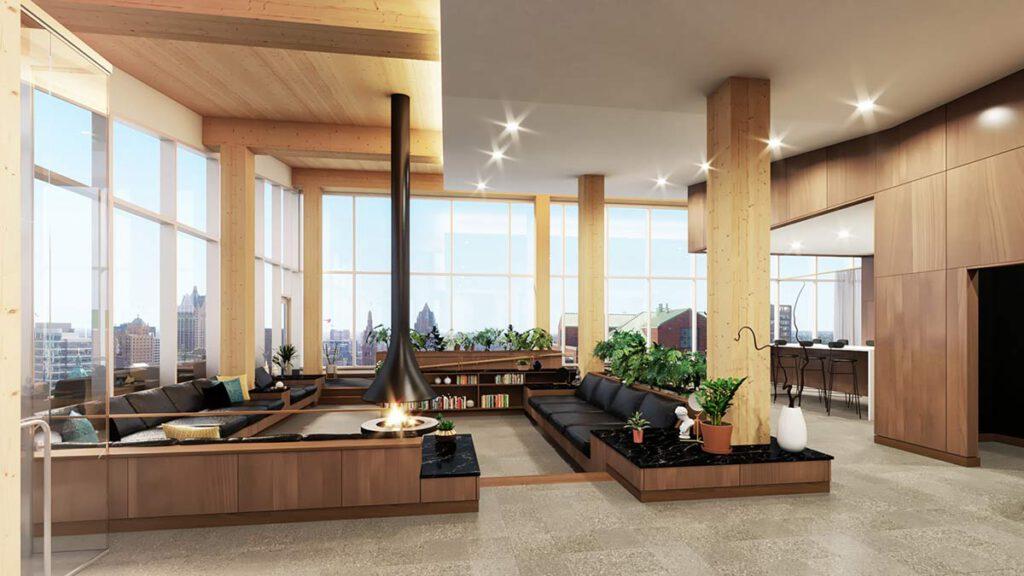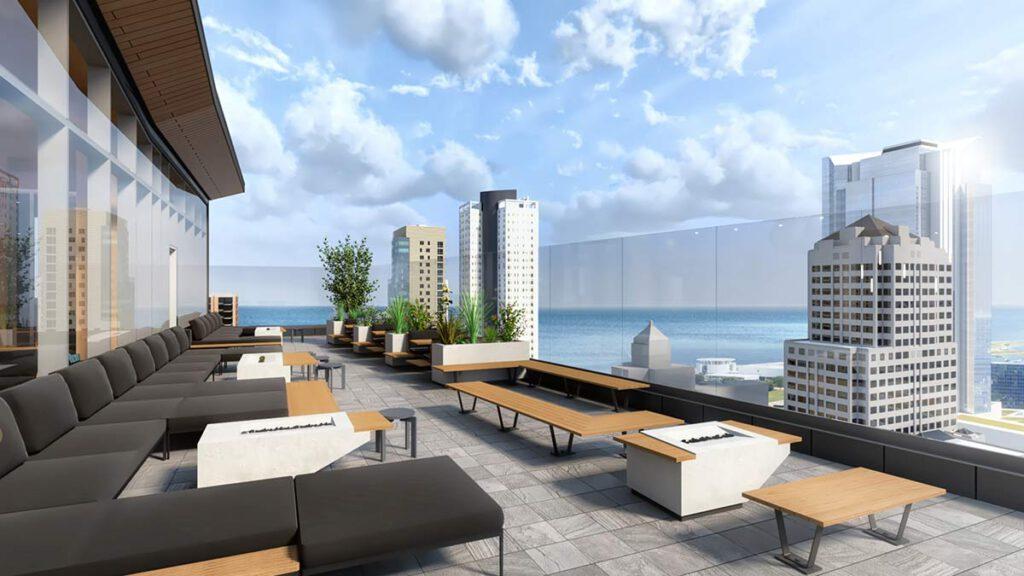 Innovative fire safety tests
As US fire safety regulations do not cater for high-rise timber construction, the architects and developers had to provide their own evidence that Ascent Tower would withstand a fire. Working with the US Forest Service, they set light to nine glulam columns in a furnace and left them to burn for three hours.
Although the results of this experiment came as no surprise to timber construction experts, they confirmed that the charred surface of the column acts as a kind of outer layer which protects the core. And so when the column dimensions were calculated, a few extra inches were added on to allow for this sacrificial layer.
The pioneering work has been completed. Ascent Tower can now serve as a blueprint for future high-rise projects of this kind. It will also supply the impetus necessary to celebrate the comeback of timber construction engineering in the United Status.
Text: Gertraud Gerst
Translation: Rosemary Bridger-Lippe
Renderings: Korb + Associates
Other articles
that might interest you