Magazine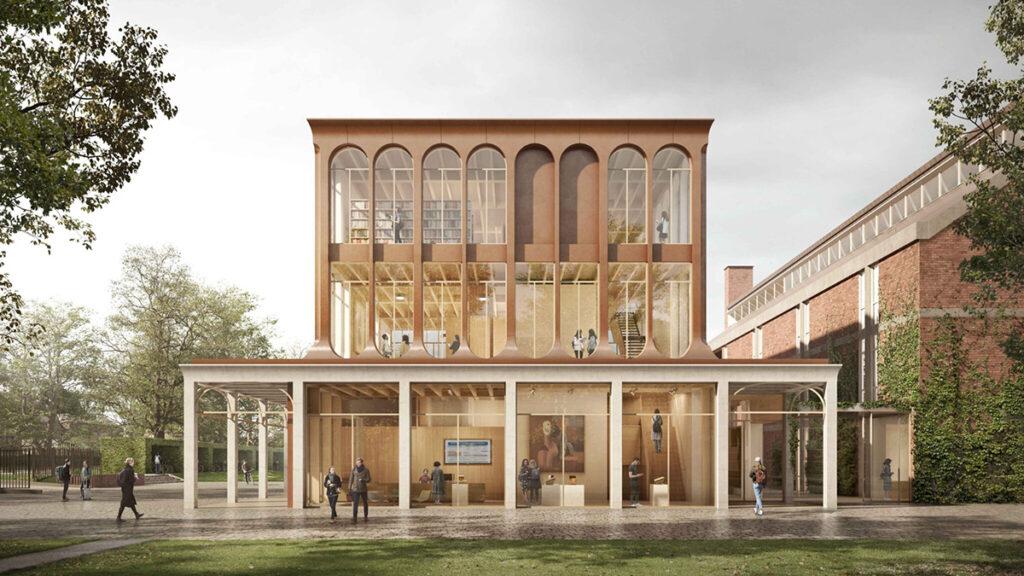 Timber pavilion with high-tech design
Homerton College at the University of Cambridge has chosen the design by Alison Brooks Architects for a pavilion that combines modern timber construction with high-tech facilities. It is expected to be a future-facing answer to their needs.
With its 1386 students, Homerton College is the largest of the 31 colleges at Cambridge University. It was founded back in the 17th century, and therefore enjoys an almost unequalled tradition among teaching institutions. Nevertheless, the college is preferring not to rest on its laurels.
Plans for the new entrance to Homerton College show quite clearly that new paths are being trodden. A two-stage competition sought to find a futuristic solution. And ultimately to produce a building that would also fulfil a kind of teaching assignment.
Homerton College and its vision
The submitted concepts were evidently all highly impressive. Principal of Homerton College Professor Geoff Ward emphasizes: "Submissions were received from a number of well-known architectural practices who would undoubtedly have produced eye-catching and highly functional answers to the questions posed."
The best solutions came from Alison Brooks Architects, however. "Alison Brooks have produced a compelling design concept, based on a new 'beacon' building, which will through dialogue and consultation result in a beautiful, multi-purpose and future-facing answer to the College's needs," the official statement explains. It is described as "a pioneering example of sustainable design".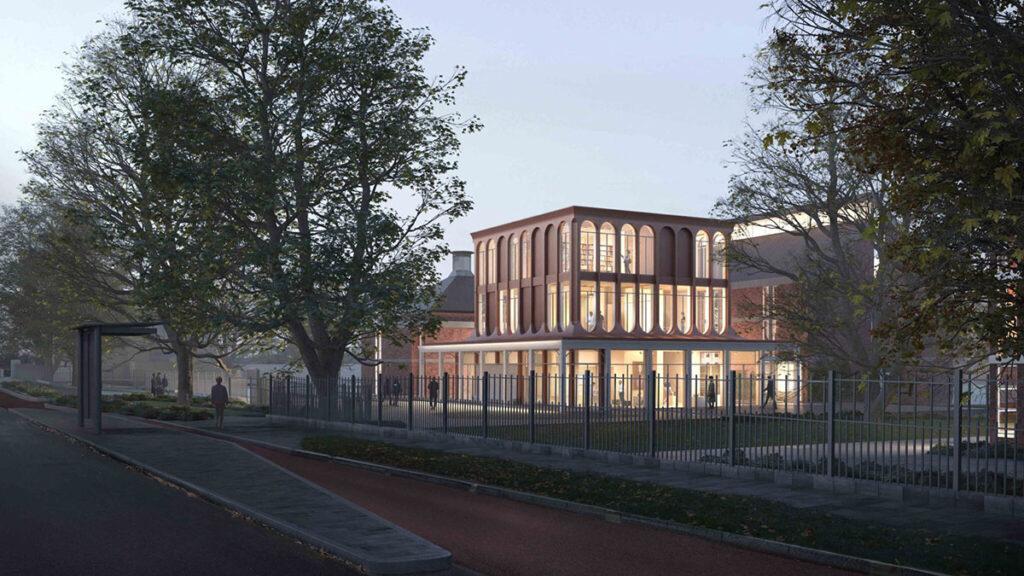 Such grand announcements are naturally intriguing. So what was it that convinced the jury? In a nutshell, it was the interaction of design, modern methods of construction, and new technologies.
Solid groundwork produces success
Indeed, the London architects went to a lot of trouble to achieve a top-quality result. Before planning of this new three-storey pavilion for Homerton College commenced, their first step was to look for a partner. With the aim of conducting some fundamental research, they teamed up with Price & Myers.
Unique combination of materials
In collaboration with the University of Cambridge, Price & Myers has developed software called PANDA, which can identify building materials with the lowest possible amount of sequestered carbon. The results for Homerton College were analysed and the final choice of materials ultimately deduced from the findings: cross laminated timber, glued laminated timber, copper and glass. "The starting point of our design was to work with an expressed timber frame with its inherent sequestered carbon," remarked the studio.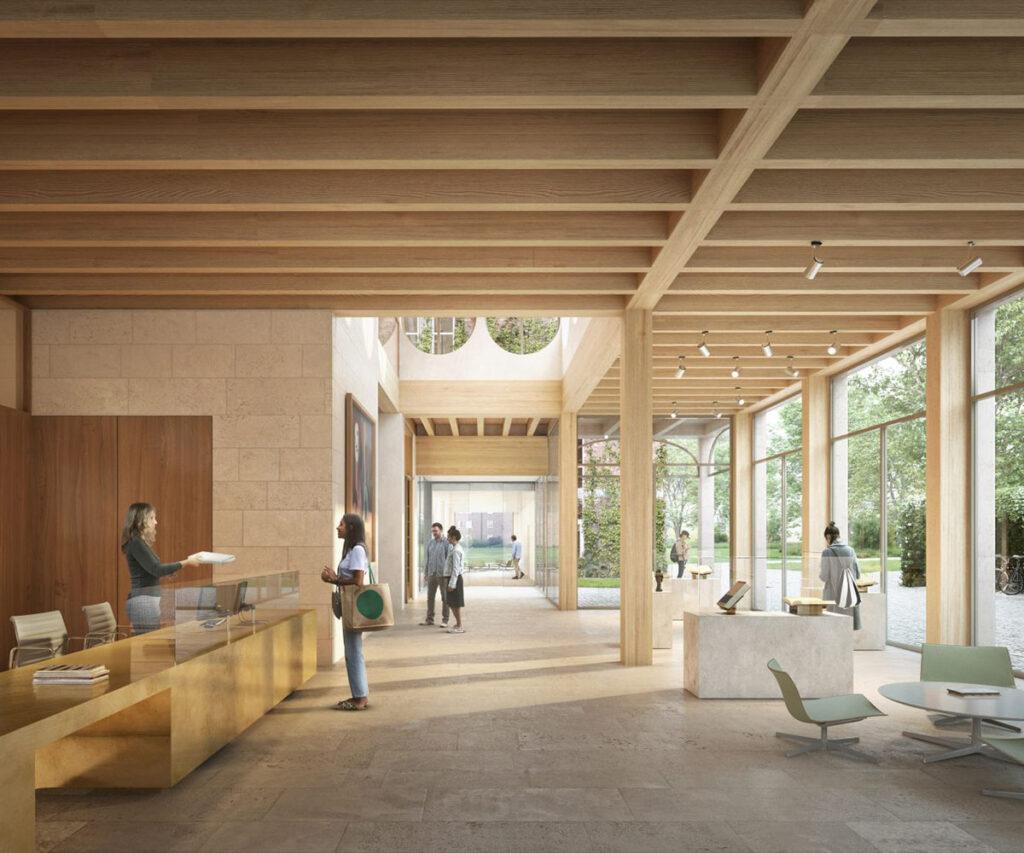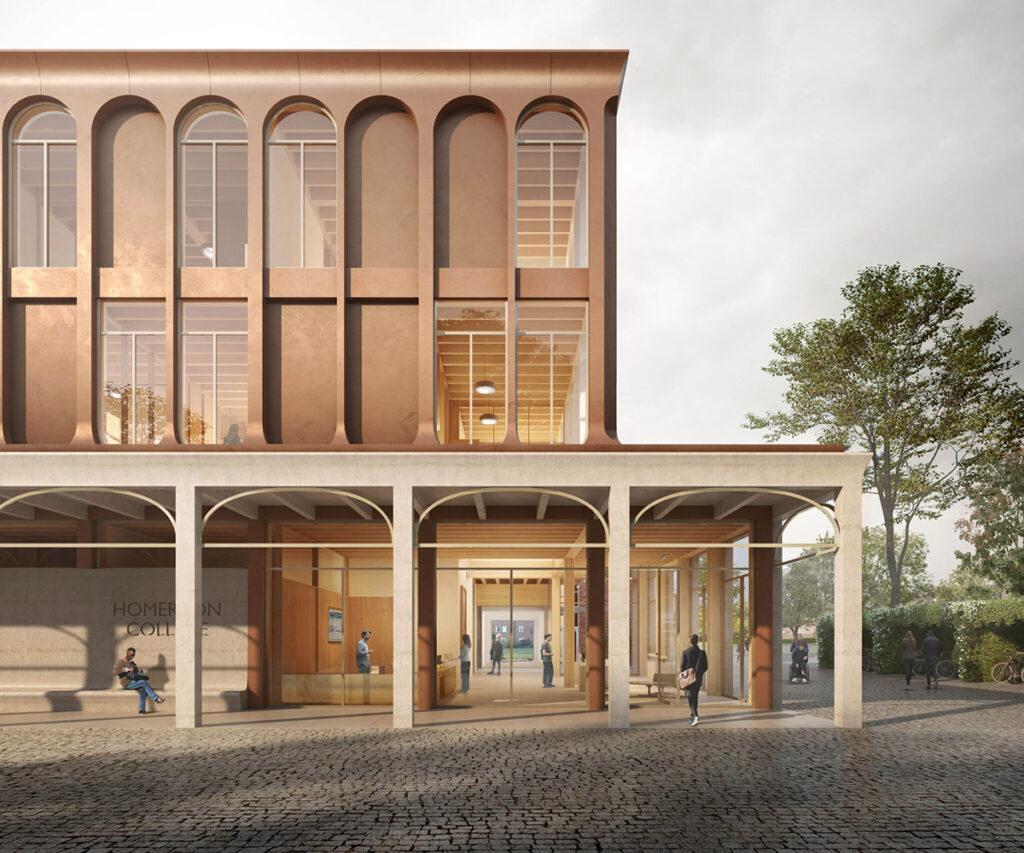 This refers to the quantity of carbon taken from the atmosphere by a tree and subsequently stored during its growth. When the tree is then felled, this carbon is naturally bound in the timber. The higher the value, the greater the amount of CO2 emissions absorbed as a result. It is a simple calculation. "This will more than offset the emissions from regulated carbon emissions produced from building services installations and unregulated carbon emissions from day-to-day building use," say the architects.
High-performance envelope like a protective shield
Even so, all the other structural measures were aimed at keeping the carbon emissions of the entrance building as low as possible. To this end, they built a "high-performance envelope" – which is only an envelope in a figurative sense. Specifically, it is a kind of protective shield consisting of several different measures. Used in combination, they are designed to ensure the building is used efficiently as a whole.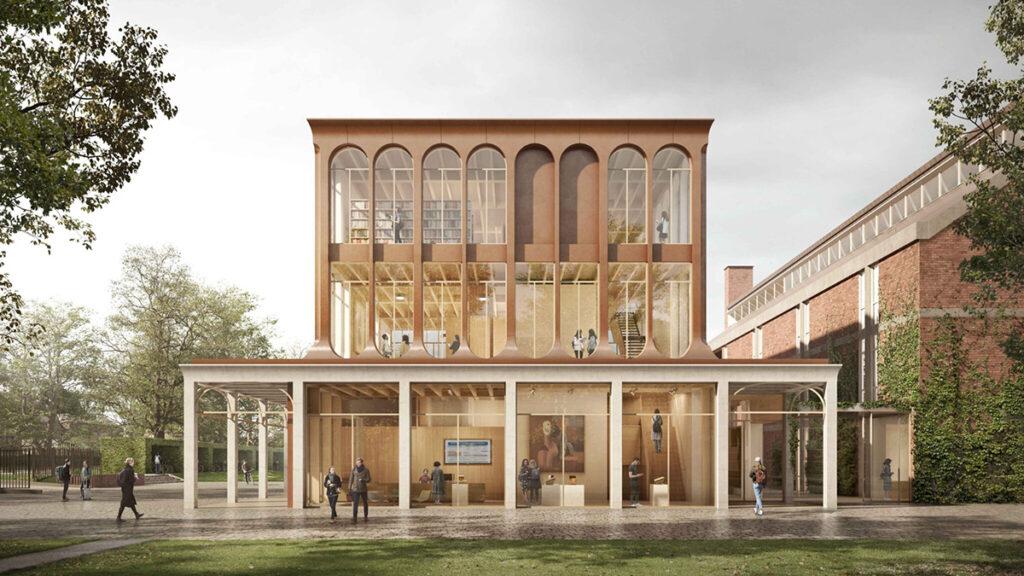 In practical terms, this means: A photovoltaic system on the roof generates electricity. And a ground-source heat pump maintains the right indoor climate at all times. A compact footprint, high ceilings and large arched windows in combination with glazed skylights will minimize the need for artificial lighting.
Natural ventilation as the order of the day
Windows that open are used wherever possible to allow natural ventilation in the summer. And the building is designed to be solely reliant on passive solar heating in the winter. In addition, parts of the ground floor are clad in copper to use the protective qualities of this alloy where relevant for timber-construction purposes.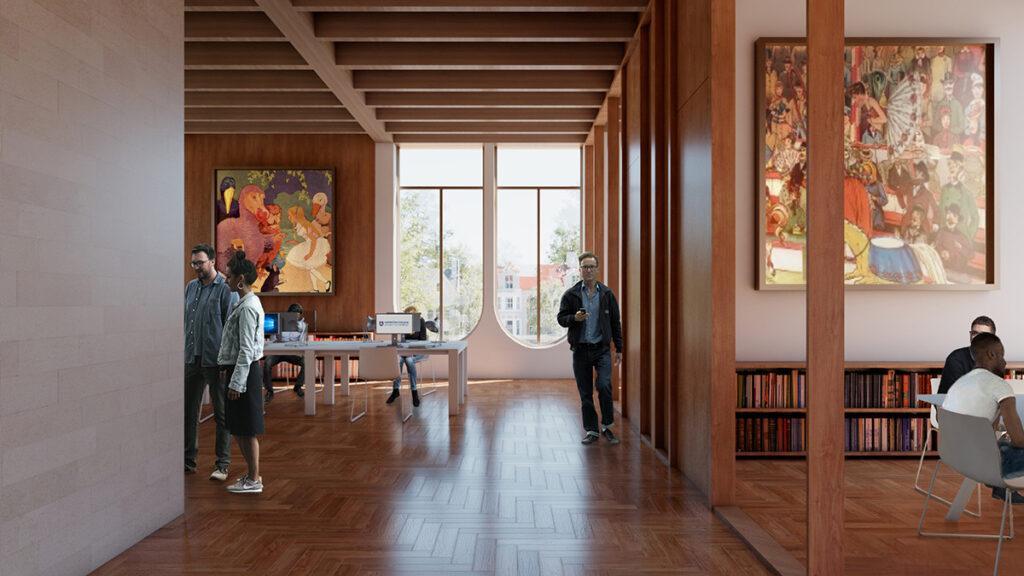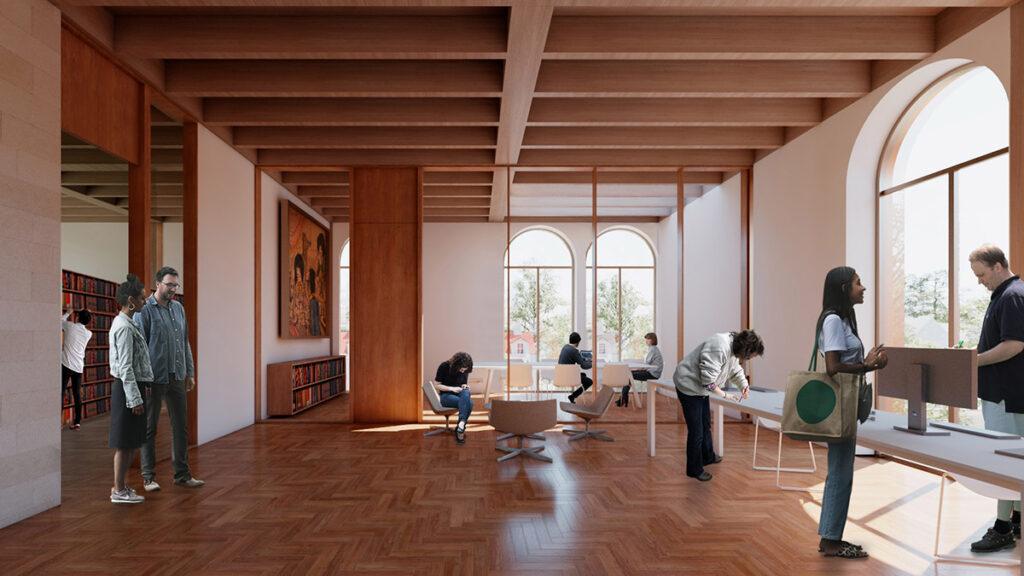 When completed, the pavilion will have a foyer and a porter's lodge on the ground floor. The new main entrance to Homerton College will also include a veranda, study spaces and exhibition space. And the two buildings will be connected via a glazed linking section.
Above the ground floor, there is also the Children's Literature Resource Centre, research rooms and – a large library with real books! After all, even though the building itself will be controlled by digital sensor technology, on the inside it will need a good helping of what Cambridge does best: Tradition!
Text: Johannes Stühlinger
Translation: Rosemary Bridger-Lippe
Bilder: Filippo Bolognese Images
Other articles
that might interest you