Frankfurt's first ever timber hybrid office building
A working atmosphere with a feel-good factor and an impressively low carbon footprint. Timber Pioneer's hybrid design is establishing health and sustainability in the workplace as the new state of the art.
In the heart of the Europaviertel
Only 15 minutes away from the airport for business travel and a stone's throw away from relaxing lunch breaks in the Europagarten, Timber Pioneer's central location guarantees ideal transport connections and a wide range of local shops.
Timber Pioneer gives free rein to individuality, from single offices to open spaces or multifunctional areas. The office of tomorrow is constantly reinventing itself and is without doubt as variable as life itself.
Smart offices think for us
Intelligent sensors record the presence of office users in predefined zones of the building.
Intelligent Building Technology
Heating, cooling, sunshades and lighting are automatically controlled and personal preferences are stored.
Building automation optimizes energy needs, with positive effects on operating costs and sustainability.
If the amount of CO2 in the air increases, the installed detectors report the need for extra ventilation.
All digitalization throughout Timber Pioneer conforms to privacy laws.
As the latest studies have shown, the climate change transition will not happen without intelligent buildings. Up to 30% energy can be saved if building technology systems are adapted to actual office use. Timber Pioneer keeps track of its own energy efficiency in real time.
Facts & figures
m floor-to-ceiling height
less CO₂ through timber construction
parking spaces with
e-charging facilities
SUSTAINABILITY
For the future of our planet
By reducing the raw materials used in the construction industry today, we will leave the planet in better shape for our children.
Timber Pioneer takes this social responsibility seriously. Its optimized energy and resource consumption are just two features of Frankfurt's green flagship project.
ECOLOGICAL CONSTRUCTION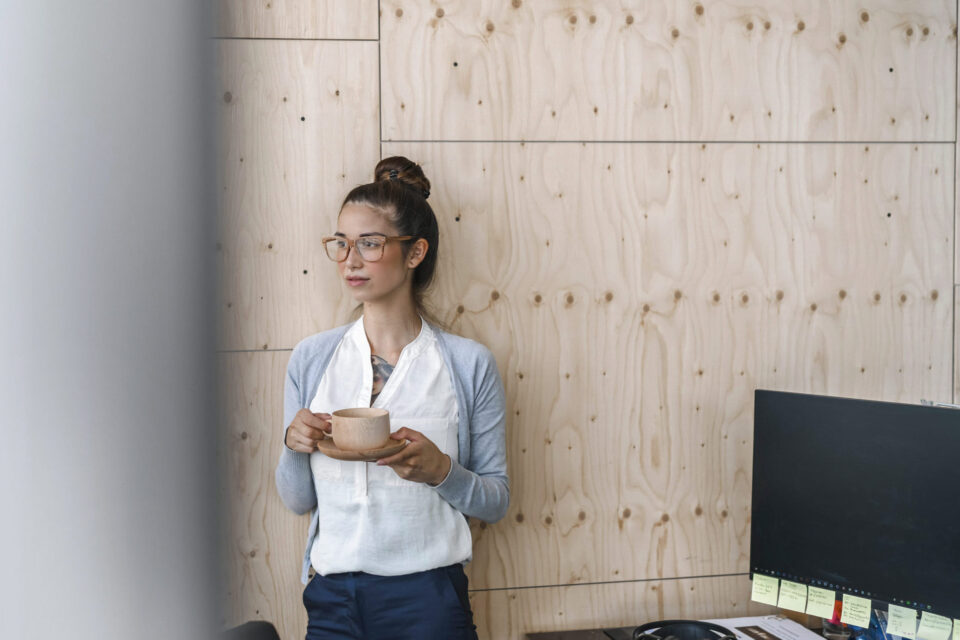 A timber office
Wood is the building material of the future: it is renewable, locks up CO₂, bears high loads and has a low self-weight. Some 1,500 m³ of wood is used in Timber Pioneer, which corresponds to around 1,500 tonnes of locked-up CO₂. At roughly 300 kg/m², the timber hybrid construction is 57% lighter than conventional solid construction (approx. 700 kg/m²). This resource-friendly use of materials enables carbon-neutral shell construction of the office floors. Using prefabricated composite elements also speeds up the building work, meaning less dust, less noise and less waste.
Savings made through timber hybrid construction of the office floors:
URBAN MINING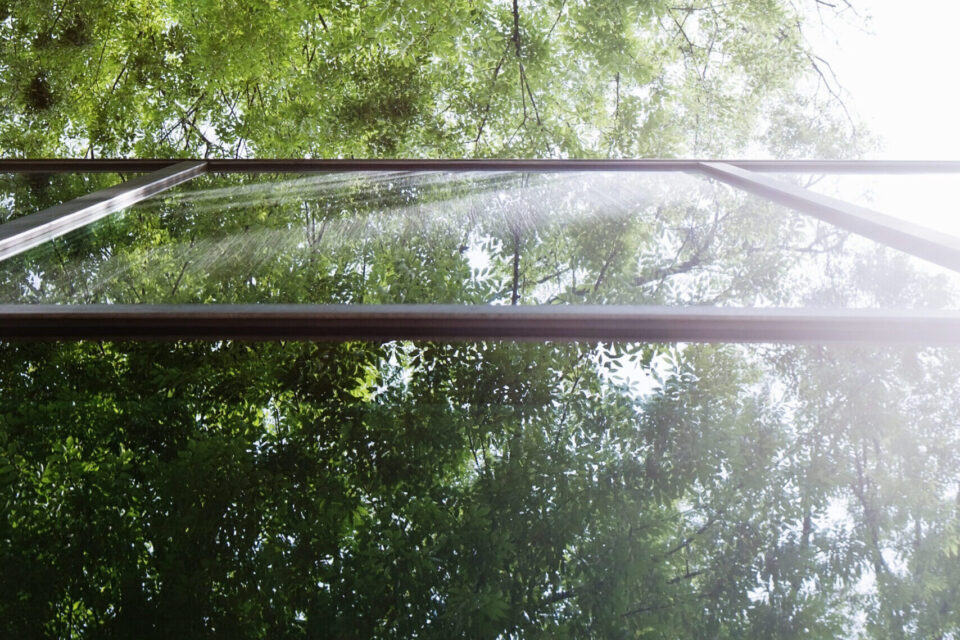 Raw materials
for the
future
While glass, paper and plastic have been recycled for years, the construction sector has always lagged behind. Timber Pioneer takes the entire loop into account and engages in urban mining for the future.
The cradle-to-cradle principle ensures that used materials do not end up as waste but remain in the raw material cycle instead. For instance, the wood used in construction and the aluminium in the curtain wall can be reused or recycled in many different ways.
ENERGY EFFICIENCY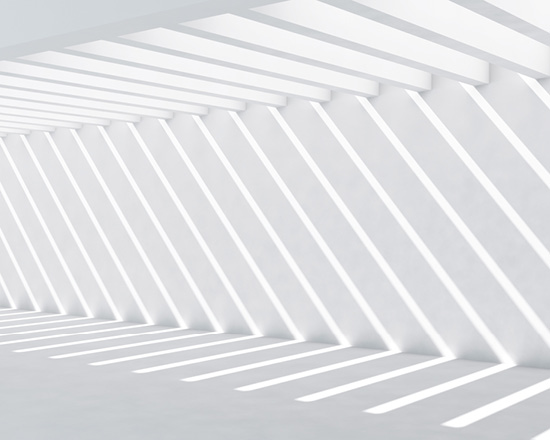 Sustainable heating and cooling
The smart sensor technology throughout the building optimizes the use of heating and cooling panels and controls the external sunshades. A ventilation system with heat recovery ensures high air quality in the office while minimizing energy consumption.
With its smart building technology, Timber Pioneer also cuts down on energy and other resources. The automatic night-time cooling is an energy-efficient method for cooling the building interior in the summer.
AIR AND CLIMATE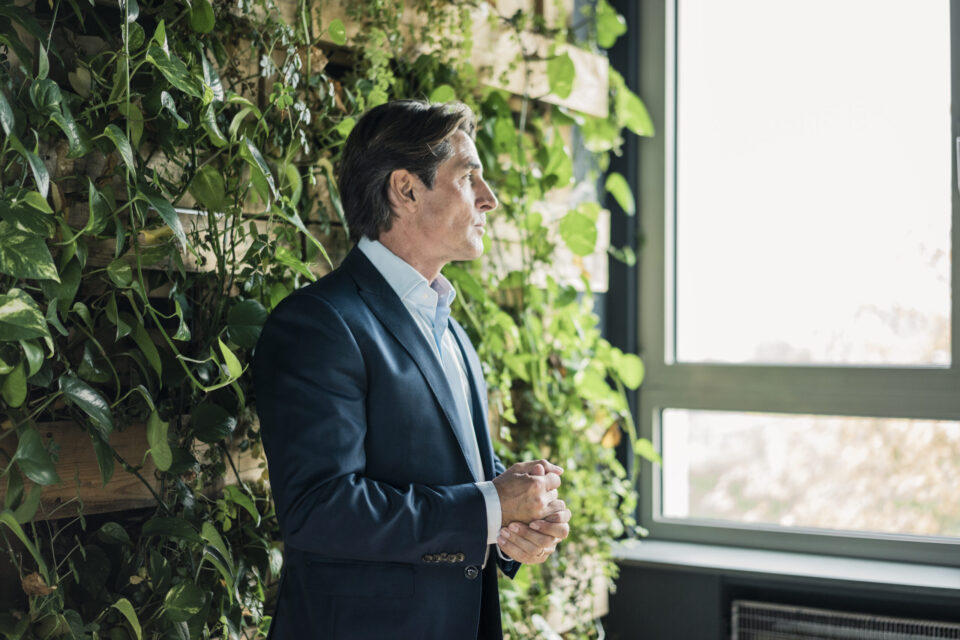 A breath of fresh air
The extensive greenery in the inner courtyard improves the urban microclimate. Rainwater is stored here and only released gradually into the environment, giving rise to a cooling effect that counters the "heat islands" that form in the summer.
The entire office is regularly ventilated using a mechanical system. The CO₂ content of the air in the conference rooms is measured and all areas can also be ventilated manually if required.
E-mobility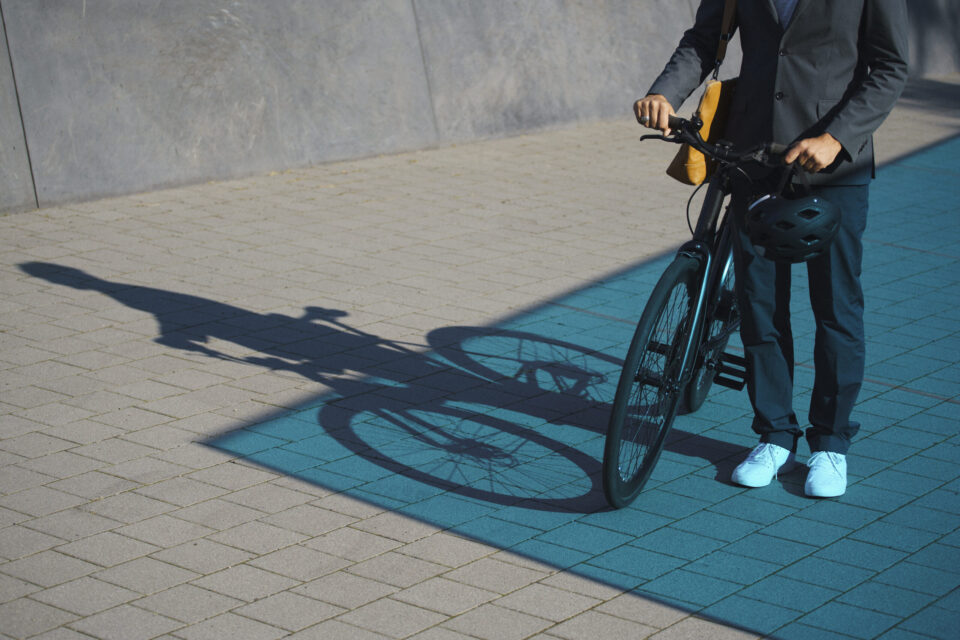 Breaking new ground
This sharing concept reduces traffic volume and, in turn, CO₂ emissions. Employees cycling to work are provided with the infrastructure they need. Secure parking spaces, e-charging stations and convenient shower rooms are standard at Timber Pioneer.
The Timber Pioneer e-mobility concept is founded on environmentally friendly commuting. Thanks to its enviable connections, the building is easy to reach using public transport. Electric cars and e-bikes can be booked easily via an app.
Healthy at work
Enjoy
your office
Having a healthy working environment is important for us all. And recent scientific studies show that this is also a key economic factor. After all, motivated, high-performing employees are the most important resource that any company can have.
The extensive use of natural wood in the interior has a particularly healthy effect. As well as regulating temperature and humidity, wood has a calming influence on the cardiovascular system. Other feel-good factors include an ideal lighting set-up and optimized room acoustics.
All of which combines to create Timber Pioneer's unique indoor climate. And, of course, employees identify closely with their companies thanks to the positive image associated with a sustainable and healthy office.
Bertold Wild Chairman of the Management Board
UBM Development Germany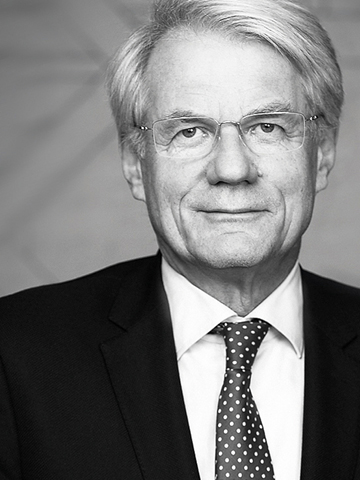 "With the Timber Pioneer wood hybrid project, our green. smart. and more. strategy is becoming a reality."
Hubert Rhomberg
Managing Director – Rhomberg Group
"This project is a highly visible signal for a new era. With new, genuinely sustainable thinking and clearly defined steps."
"We take great pleasure in helping to make our cities even better. Timber Pioneer has a far lower energy footprint than conventional office buildings."
OFFICE SPACE
Made-to-measure office
Timber Pioneer caters for everything from a quiet single office to a dynamic workflow in the flexible working landscape of the future.
High ceilings, natural wooden surfaces and flexible partitioning – all you need for your individual office concept.
Office settings
Creative Area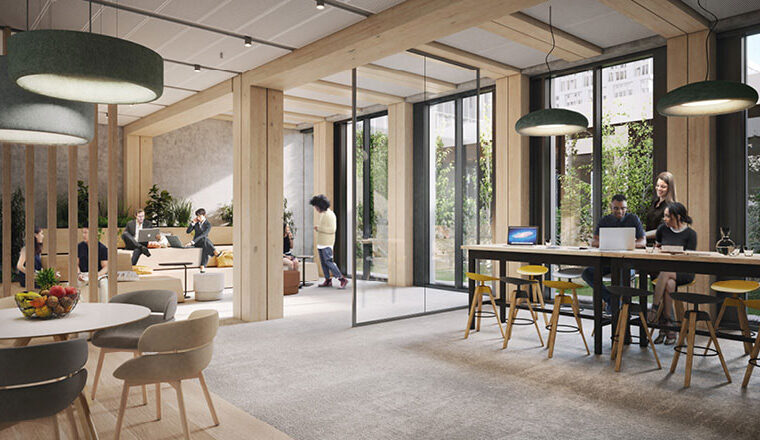 More and more companies are eager to create atmospheric working landscapes to enhance communication and creativity. In keeping with the principles of New Work, the Creative Area provides space for informal meetings and team-oriented work.
Flexible Work Units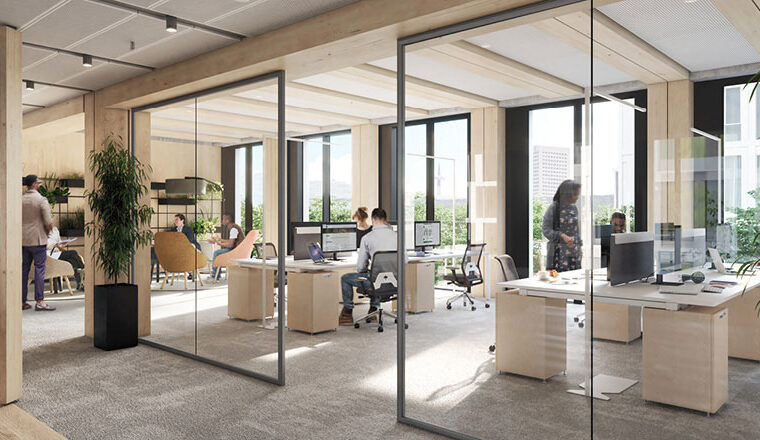 You can customize your own workspace with a combination of creative working landscape and retreats for quiet concentration. Flexible partitions can be added or removed easily as required.
Meeting Zone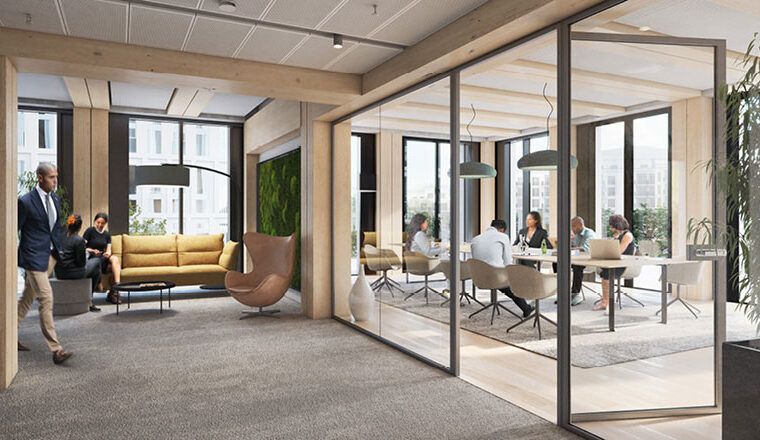 Functional interior and warm, discreet colours create a pleasant atmosphere for meetings and presentations. The comfortable lounge in front of the Meeting Zone is the perfect place for winding down after intense discussions.
Coffee Point
The Coffee Point is the central meeting point in the open office landscape – a cosy place for taking a break or having a chat. Its green surroundings and decorative wooden elements also make an important contribution to a healthy, agreeable indoor climate.
Hard Facts
Office spaces
Total office spaces

Approx. 14,100 m²

Floors

8

Office units

33

Rental units per standard floor

Up to 5

Floor-to-ceiling height

3 m

Fit-out grid

1.36 m
Features
Floor construction

Cavity floors

Wooden surfaces

Columns, girders and beams in glulam timber

Type of wood

Spruce, FSC-certified

Sunshades

External, electric, weather-sensitive

Heating/cooling

Heating and cooling ceilings, individually adjustable

Ventilation

Mechanical supply and exhaust system

Manual ventilation

Ventilation louvres on every second axis

Entrances in tenanted areas

Framed glass doors
Tenant usage
Foyer

Prestigious foyer on Europa-Allee

Lounge

Tenant lounge on 1st floor

Outdoor area

Extensive greenery in courtyard (1st floor) and on GF

Roof terrace

Extensive greenery on 1st and 7th floor

Showers

Shower and changing rooms

Lifts/elevators

5 (divided between 2 service cores)

Lifts/elevator control

Contactless via card readers

Access control system

Contactless
Mobility
Car parking spaces

50

Sharing programme

Electric cars and e-bikes

E-charging facilities

32

Bicycle storage room

On GF
The Architect
Eike Becker aspires to create architecture that has a positive effect on physical and mental health without harming the environment. The timber hybrid building Timber Pioneer is a prime example here, with its predominant use of naturally sourced and engineered wood. Headquartered in Berlin, Eike Becker_Architekten currently has 50 employees and a portfolio with an array of international projects and awards.
Timber Pioneer is adjacent to the new F.A.Z. Tower and is one of the final projects in the development of Frankfurt's new Europaviertel (European Quarter). With the trade fair district (Messeviertel) within walking distance and fast connections to the city, the office location offers many advantages for your business.
Location
The excellent public transport connections puts many of the city's hotspots within easy reach, and the new U5 underground line will be opened in 2025. The city has no shortage of options for lunch, conferences or after-work drinks, and the nearby Europagarten is excellent for a lunch break in the park.
Timber Pioneer is easily reachable by car from all directions; the motorways A5 and A66 are only a few minutes away. Business travellers will benefit from the proximity to the central station and the easy access to the airport. The abundance of green space in Frankfurt and the nearby Taunus region provide opportunities for rest and relaxation.
To the airport:
15 mins
(car)
45 mins
(public transport)
To the central station:
5 mins
(S-Bahn suburban trains)
10 mins
(bus)
To the motorway:
5 mins
(A5)
10 mins
(A66)
To underground trains: direct connection via Europagarten station as of 2025
EUROPAVIERTEL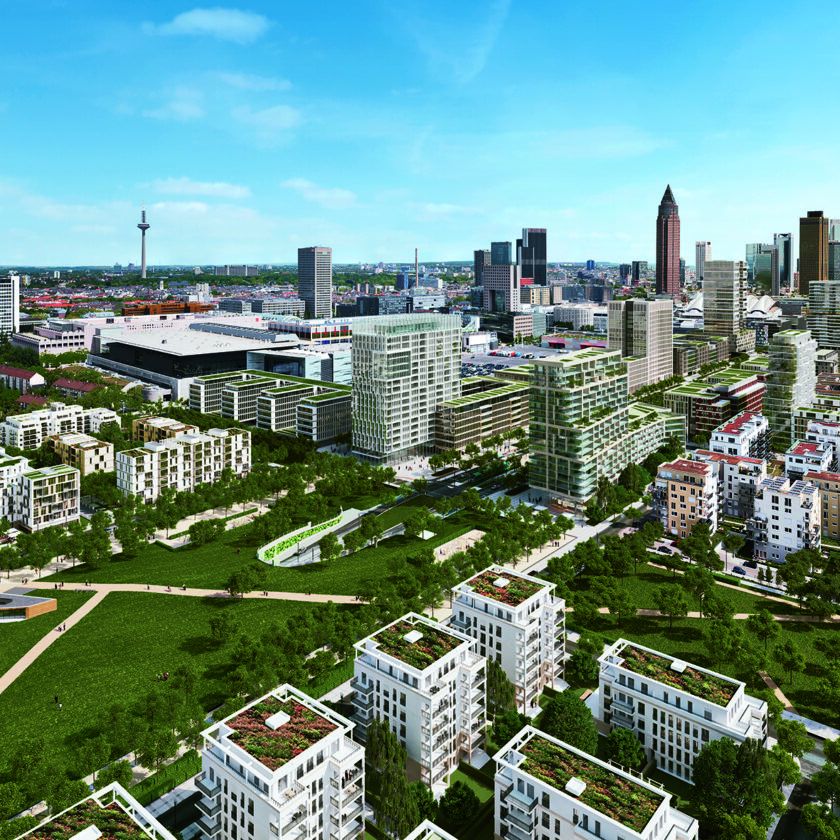 The green district
Since 2005, the new Europaviertel (European Quarter) has been taking shape on the site of the former main rail freight station in Frankfurt's Gallus district. It was one of the first city districts in Europe to be awarded a platinum sustainability certificate. A positive atmosphere, effective noise protection and an intelligent traffic concept combine to give this district its special quality of life.
Contact
Put yourself
in the picture
Project Partners
Development
PGE Grundstücksgesellschaft Europaviertel mbH
Projektbüro "Timber Pioneer", Pariser Straße 6
60486 Frankfurt am Main
Germany
Hans-Peter Frey
UBM Development is one of Europe´s leading developers of timber construction projects. The strategic focus is on timber construction, green building and smart office in major cities such as Vienna, Munich, Frankfurt or Prague. A Platinum rating from EcoVadis and Prime Status from ISS ESG confirm the consequent focus on sustainability. With 150 years of experience, UBM offers all development services from a single source, from planning to marketing. The shares are listed on the Prime Market of the Vienna Stock Exchange, the segment with the highest transparency requirements.
The PAULUS real estate group has developed and realized energy-efficient and sustainable residential and commercial property since 1996. Its focus is on project development, concept design, consultation and construction management.
Lettings
BNP Paribas Real Estate GmbH
Goetheplatz 4
60311 Frankfurt am Main
Germany
Timm Nowicki